" One look at Linda's breathtaking quilts and you'll want to discover her secrets to her trademarked FUSIQUE'® method. Linda presents a trunk show program of unique designs featuring her journey in "Don't Sweat the Bumps!" Take this opportunity to see her quilts and sign up for a workshop utilizing Linda's high tech process. Ingeniously trim the time required to create a priceless treasure!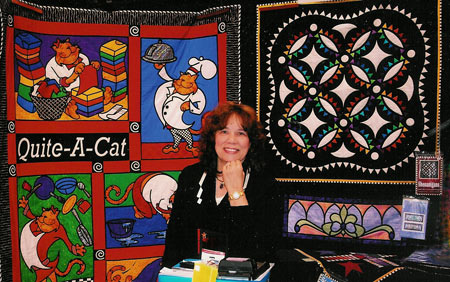 Join Linda for a Fusique'® Workshop as seen on Simply Quilts!
Major accomplishments include:

Taping Simply Quilts with Alex Anderson on HGTV.
PBS show on Kaye's Quilting Friends with Kaye Wood.
Experienced International Instructor- taught in England, Ireland, Wales & Carribean Cruises.
Featured in Quilters World 2003, Magic Patch 2007, and Quilters Newsletter 2012.
Most of us have had the experience of becoming hooked on a new hobby or activity only to start something else once the "new" has worn off. That was Linda's story until 24 years ago when she made her first quilt and found herself living a life driven by infinite possibilities of quilted art inspired by the color, texture and designs in fabric. After making a complex reverse appliqué stain glass quilt, Linda developed a streamlined technique to make the same beautiful quilt in half the time. She has never "cooled" or looked back. Linda trademarked her technique, FUSIQUE'®, which is a fused reverse appliqué process. In 2000 Linda successfully launched her pattern design company Among Friends using her innovative technique. Linda's trunk show of quilts with a blast of color will amaze and inspire you to create new quilts. Start your quilting fun now! Contact Linda Everhart for programs and workshops today!